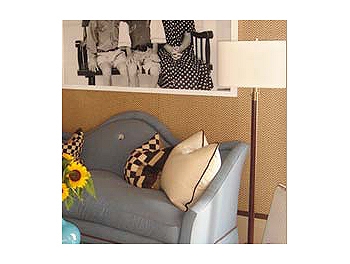 I love my home and I really enjoy spending time here. But I still get the urge – especially in winter – to infuse it with fresh looks. If you want to broaden your horizons, try a few of my ideas.
1. Shake up living spaces
Give your living room or great room a new persona. Maybe it's time to move the seating to the other wall, or do away with media to allow the space to become a games room. Whatever you most want that room to be, resolve to make it happen!
2. Throw caution to the wind
Is your home filled with safe neutrals? Don't be afraid of color. Start by introducing soft greens, blues and yellows. You'll gradually work yourself into the world of color and may end up hankering for bolder hues.
3. Spend where it counts
Splurge on a piece that will be frequently used, and save money by repurposing accessories. If you're finally going to get that dining room sideboard, dress the top with pieces of your wedding china and a simple bouquet.
4. Out with the old
Some items lose their importance over time – like that still-in-the-box bread machine or a footstool no one uses. Try to find a new place for it, or accept that it's time to donate it.
5. Warm up inside
Cold weather and gray skies can lead to winter blues, so spruce up the areas of your home that make staying in on a cold night worthwhile. Warm up your mantle with a new paint color or stain. Add a cozy reading chair, a soft throw and a floor lamp for warm task lighting.
6. Drive out disorder
Create hiding spaces for clutter before it begins. Create an area for storage with a decorative screen in a corner of the room. If you don't have space, wrap skirts around end tables and hide items within that space.
7. Break away from the norm
Avoid a style rut – mix up your look. Try black, deep plum or orange accents for a modern statement. Contrary to popular belief, dark colors do not make a room feel smaller; they add a layer of depth and warmth. If color isn't for you, try a great chandelier, an antique table or stainless steel appliances.
8. Change your mindset
Don't look at home updates as chores. Making it a fun event will give you something to look forward to, and once the change has begun, you'll be inspired to carry out the transformation. Avoid strict timelines; browse through catalogs and home furnishing stores at your leisure and only purchase items you love.
9. Evoke an emotion
Each room in your home should evoke an emotion. Consider the mood you want to create. For a calming den, establish a tone-on-tone palette of bold hues or pale tones. A single color palette, regardless of the color, will create a soothing atmosphere. Build a cozy family room by furnishing it with lush fabrics, warm lighting and soft rugs. The most welcoming kitchens are the cleanest. Rich cabinetry with a contrasting countertops will create a welcoming space.
10. Spice up your kitchen
A dull winter weekend is a great time to update indoors. Add personality and practicality with an updated backsplash in cork or mirror. Instead of a cloth, add a new runner to your kitchen table. Try a fashion-forward wall color like purple, ochre, soft green or coral.
Create a calendar
I do these things each year to keep my home seasonally fresh. Consider your home's décor and layout to determine the changes that generate fresh ambiance.
January 1: Clean your window treatments and leave them up until spring. They'll help insulate windows and add coziness
April 1: Spring-clean. Add bouquets of fresh flowers or green plants for a vibrant and cheerful atmosphere.
July 1: Bring out summer-bright accent pillows and tableware. Take up area rugs to keep rooms feeling fresh and clean.
October 1: Bring back the warmth by adding richer fabrics, rugs and blankets.
Each home has a few can't-live-without-its. These will stay put through the years, and your style can be built around them. My favorite things include a photo of me as a 10-year-old at a drafting table, doing what I've always loved to do.
What are your favorite things?