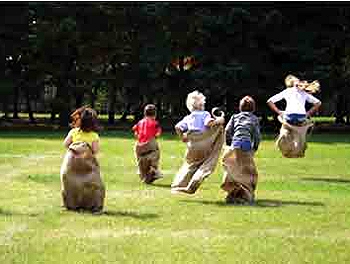 Our kids love to have friends over for backyard parties, whether it's a birthday or just a nice summer day. If you want to make it an event, or even try a carnival-themed party, here's how we do it.
Decorations
My kids like to paint a "Welcome to the Carnival" banner on newspaper.
They decorate big appliance-type boxes to set up as "booths" for carnival games.
I use weighted helium balloons as centerpieces and give them out as favors at the end of the party.
For goodie bags, I'll fill popcorn boxes from the dollar store with things like crayons, erasers and small treats.
Let the Games Begin
A carnival party is perfect for kids of all ages and fun for adults, too. Parents can oversee booths while kids tour the backyard, stopping at each booth along the way. Try these favorite carnival-themed games.
Guess the beans
Buy a big bag of jellybeans, count them and place them in an old mason jar with lid. The child who guesses closest to the correct number of jellybeans gets to take the jar home as a prize.
Beanbag toss
Cut holes in large pieces of cardboard and have kids decorate cardboard with crayons or markers. Assign different point values to each hole. Once complete, kids stand back 10 feet and toss beanbags into the holes.
Backyard bowling
Set up ten empty soda cans to resemble a set of bowling pins and let kids "bowl" with a big foam ball.
Sack race
Give each child an old pillowcase and have them decorate it with fabric paint or markers. They'll stand inside the case, pulling the fabric up to their chests, then race across the yard, hopping in the pillowcases the whole way.
Make "Mocktails"
My kids feel special when we serve them mock cocktails at the barbecue. Two of my favorite recipes call for shaved ice. The Kenmore Elite® side-by-side refrigerator with Shaved Ice offers three options: shaved ice, crushed ice and ice cubes.
Homemade Slushies
2 cups ice water
1 packet fruit-flavored drink mix
2/3 cup sugar
4 cups shaved ice
Mix ice water, flavored drink mix and sugar. Pour over shaved ice. Makes four 8 oz. servings.
Faux Orange Julius
1 cup milk (or prepared powdered milk)
1 cup ice water
1 6 oz. can frozen orange juice concentrate
12 ice cubes or 2 cups shaved ice
1/4 teaspoon vanilla extract
1/8 cup sugar
Place all ingredients in blender and blend two minutes or until smooth.
The Cleaning Crew
With summer barbecues come summer stains. Thankfully, there are some quick and easy ways to remove summer's most persistent spots.
Ketchup or barbecue sauce: For tomato-based stains, rinse in cold water, then soak in cool water with ¼ cup detergent per gallon of water. Spray with a pre-wash product; launder with fabric-safe bleach.
Mustard: Treat the stain with a pre-wash stain remover, or dampen with water and rub with bar soap. Launder with fabric-safe bleach.
Grass: Pre-treat the stain with a stain stick or soak it with an enzyme product. If it persists (and is safe for dye), sponge the stain with alcohol (dilute with three parts water to one part alcohol if using on acetate). If the stain still remains, launder in the hottest water safe for the fabric, with fabric-safe bleach.
How do you plan your children's outdoor parties?