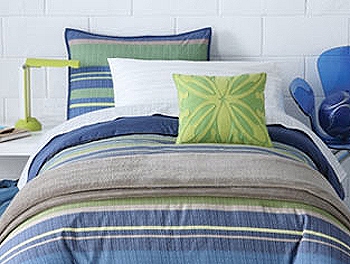 I have several friends with children of varying ages. I'm often asked about designing kids' rooms that don't scream "nursery." What I suggest is starting with simple, two-toned walls (I love chair rails dividing a light upper paint color from a darker tone on the bottom), basic furnishings and soft lighting to create a soothing, child-friendly environment. You can add (and later change) more color and pattern with curtains, bedding and toys.
You can use these suggestions as guides as your child grows up:
Toddler to tween: Now you can begin to incorporate accent furniture and accessories that you removed when your child was a baby. Baby mementos can be made into artwork. For example, I once worked a child's blankie into a quilt to be displayed in their room.
Tween to teen: Let your child decide on a theme for their bedroom, but work with them to establish the design. Encourage them to play with bold colors and big prints. Teenagers can let out their creative side by painting their own walls, creating artwork or applying wall decals, which are available online.
Teenage to college-age: Create a guest room with your child's existing furniture, with updated bedding to give the space a fresh look. If you need additional space in your home, you can create a study with appropriate furniture for your work and a comfortable sleeper sofa for guests. I love to work with my clients to create a "wall-of-fame" featuring their children's favorite photographs so college kids have an instant scrapbook when they come home.
Side note: hosting your parents
Whether they are stopping by for the weekend or planning an extended stay, it's important to make your parents feel welcome whenever they are in your home. Display family photos that your parents enjoy or use dishes you've inherited from them to create familiar place settings.
Keep floors clear of clutter. Consider installing hardwood floors or low pile carpets if your parents are older and will be staying for an extended period. These materials are much easier to walk on than traditional rugs.
How do you plan to decorate and design your child's room as they grow up?