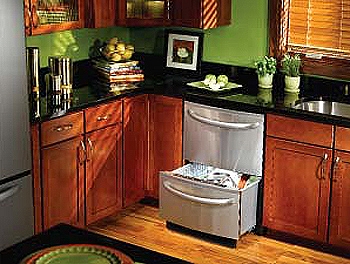 The Big Night and Beyond
We'll take you through each step on party night and offer some extra tips to help make everything go smoothly during your Valentine's Day dinner or any special dinner party.
The big night
A calm host sets the tone for the party. Take a deep breath, pour yourself a glass of wine and open the door to the first arrivals!
Divide and conquer
Party guests love to help. Before the party starts, assign everyone a simple task and post it on the refrigerator. Guests are happy to take coats, pour wine, play DJ or load the dishwasher; and you'll be grateful for the help.
Tools of the trade
Professional chefs rely on appliance features to do the dirty work. A Kenmore refrigerator with Rapid Ice makes up to eight gallons of ice a day, for perfectly chilled shrimp cocktail and ice-cold beverages all night long. Before the party, chill your seafood on ice to ensure it stays fresh until you cook it.
Try this restaurant trick: Use warming drawers, like the ones in the Kenmore Elite®, Kenmore PRO™ or certain Kenmore ranges, to warm plates before you serve.
Get creative with your cooktop's bridge burner. It's ideal for use with griddles or large pans, letting you churn out stacks of pancakes for Sunday brunch, or quesadillas for your Mexican party.
Food for thought
To promote a party's geographical theme, ask guests who have been to that region to tell a story from their travels. If your party is a sit-down affair, write icebreaker questions and place them underneath each plate. When there's a lull in conversation, have guests answer questions one by one.
Mix things up throughout the night. To keep the conversation cooking, ask guests to choose a new seat for dessert. It keeps conversation fresh and ensures your guests make new friends.
Aftermath: clean like a pro
You've already emptied your dishwasher before the party began. As you use dishes and utensils in prep work, toss them in your dishwasher and run a cycle as you're sitting down to dinner. This way, you can quickly swap the clean prep dishes for the dirty dishes.
Kenmore Elite® drawer dishwashers are perfect for entertaining. They can be installed in pairs in the kitchen, or solo in a wet bar or butler's pantry. A pair of drawer dishwashers lets you wash delicate stemware in one drawer and tough, baked-on casseroles in the other. A drawer dishwasher in your bar saves unnecessary trips to the kitchen.
That's it! Now you're ready to host a party that cooks.
When are you planning your next party?