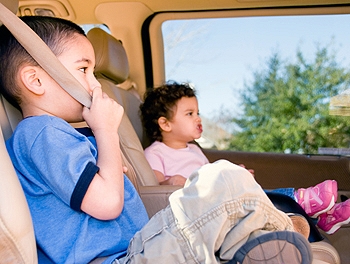 Keep things local and simple. Enjoy a relaxing vacation without traveling far or spending lots of money on a long trip.
Whenever we have a long weekend, the Clark family likes to take a little "stay-cation" and enjoy our town's sights and activities.
If you need ideas for things to do, you can start by checking your visitor's bureau for activities and special events.
Here are a few other tips that help us plan our stay-cations:
Use freebies. Many museums offer free admission or discounted visiting hours, so it pays to do research before paying full price. In my family, we try to pack lunches for museum trips so we can splurge on a special treat for the family.
Carpool. We like to team up with another family to make a day trip to our nearby zoo. Carpooling lets us to save money on gas and parking, while the kids are thrilled to make the trip with friends.
Backseat fun. I keep a plastic crate stocked with toys, games and puzzles under a seat in our car. It's been a good place to store treats that come with fast food meals and miscellaneous items from the dollar store. I've also found that cookie sheets make great backseat "tables" for drawing or playing with magnets.
On the road. Plan a scavenger hunt for your kids. Each child gets a list of items they might see on the roadside, like barns, billboards, animals and trees. The one that finds their items first gets to choose a special treat. If kids are too young to read, you can cut pictures from magazines to create their scavenger list.
Eat healthy. Travel with healthy snacks. I always bring trail mix, string cheese, crackers, granola bars, fruit, veggies and juice boxes. Just transfer snacks to hard-sided containers to keep them fresh and less prone to "sneaking."
What are your family's favorite ways to spend time together without spending too much?