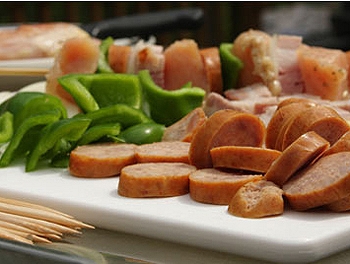 Every summer, I like to bring out the red and white checked tablecloth, a bucket of cold drinks and start husking fresh corn on the cob! And when it's time to hang out with family and friends and enjoy a backyard barbecue, having a plan helps me prepare and keep the party on track.
Be Prepared
My plan includes keeping a few basics in my pantry and fridge as go-to family barbecue ingredients. And these are my favorites.
I store ground meat in freezer bags. I use my handy postal scale to divide it into recipe sizes or individual portions.
I prepare marinades in bulk and store them in freezer containers. Then I can pull them out at a moment's notice.
I always keep a variety of frozen veggies on hand, in case I haven't got time to pick up fresh ones. I like to add the extra nutrients to summer fare like hot dogs and hamburgers.
Hot dog and hamburger buns are a must-have in the Clark family freezer! They keep well in the freezer and thaw quickly.
Lemons are a must-have all year. Lemon zest adds a flavorful kick to boxed cake or muffin mixes. And of course, the kids love fresh lemonade.
Pound cake with berries seems like the all-American dessert! It's so simple that your kids can help prepare it. You can keep both in your freezer, or use fresh berries in season.
Adults are people too! So keep a bottle or two of your favorite wine on hand for guests on those warm summer nights.
Simple Tricks = Maximum Ease
I've got some tricks to make my life easier when I'm when planning for a barbecue and serving outdoors. It's about maximum fun with minimal fuss!
Empty the dishwasher before guests arrive to make room for dirty dishes.
Serve buffet style so everything guests need is on the table. You'll save trips to and from the kitchen.
Bundle silverware inside cloth napkins and fasten with twine to keep utensils together.
Use an empty dish tub to collect dishes, and a pretty basket where guests can toss their napkins.
Don't forget a recycling container nearby for cans and bottles.
I like to use sturdy, reusable plastic dishware. Stock up for next year's parties at end-of-summer clearance sales.
When you're finished grilling, remove grill grates from the cooled grill, place them in your oven and use your self-cleaning oven feature. Everything will be clean the next morning.
What To Do With Leftovers
Let's face it: there will always be leftovers. Here are my ideas:
Dice and add meats to tortilla wraps with salsa, cheese, fresh lettuce and tomatoes.
Use leftover roasted veggies with dipping sauce as a side dish or snack. Or add them to an omelet.
Use potato chips or leftover bread as a topping for a weekday casserole; just process in your food processor.
Spread leftover hot dog buns with butter and Parmesan cheese; sprinkle with garlic powder and broil five minutes for instant homemade garlic bread.
What do you love about backyard barbecue?  What's your party plan for the summer?