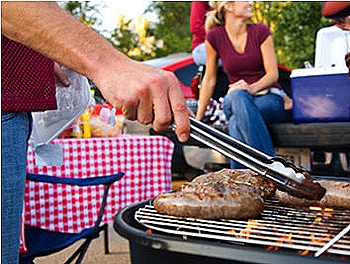 Obviously, summer is the most popular time for grilling, but in many parts of the country, it can be done day or night and all year long. Here's how I make the most of our cookouts.
Safety first: a few cautionary tips to keep everyone out of the ER.
We teach our kids to always wash their hands before and after food prep or eating.
Use separate plates for raw meat and cooked foods to avoid cross-contamination.
Be sure an adult is in charge of keeping kids away from the grill at all times.
Keep a bucket of water and a fire extinguisher near the grill in case flames get out of control.
Make sure the grill is at least 10 feet away from the house, garage or trees.
Have a plastic tote filled with first-aid items, sun block, bug spray, anti-itch cream and citronella candles on hand.
Grilling tips
Using a gas grill? Check it first for gas leaks. Rub soapy water on the gas hose and turn it on. If there is a leak, the water will begin to bubble, and you'll need to replace the hose.
Allow a good 20 or 30 minutes of pre-heating before placing foods on the cooking grate.
During cooking, remove the grill cover by lifting it to the side, rather than lifting it straight up, so the suction doesn't cause ash to fall onto your food.
After your grill cools, remove ashes for proper airflow and safety with your next use.
Plan for "plan B." Have a contingency plan in case the weather decides not to cooperate. One option is to shift the party to the garage so you'll have access to the outdoors but be sheltered from light rain. Kids can decorate the garage floor with chalk that can later be easily hosed off.
Still hungry? Find more grilling and safety tips >