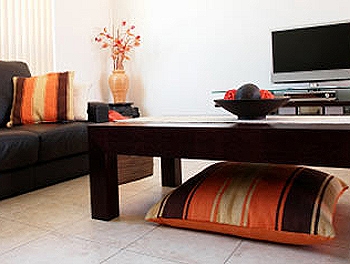 Creative apartment decor
I've helped many people who've transitioned from dorm life to a new apartment. So I know the challenges of creating a fresh look with existing furniture and décor items.
If your child is the home-loving, do-it-yourself type, they might appreciate some designer tricks to make hand-me-down furniture feel new.
Make dated furniture feel fresh
I love finding and refinishing antiques – or even just old stuff! – to give a modern feel. Wooden pieces look new with fresh stain or coat of paint, updated hardware and drawers lined with fabric.
Personalize your place settings
Group mismatched dishes, silverware and glasses into combinations that accent one another for a tabletop that's uniquely yours.
Create light
Sunlight makes small spaces feel larger. I tell my clients to replace dark blinds with light, airy curtains. Your child can replace light bulbs for better reading and grooming, and add dimmers for changing the mood.
Build stackable storage
Look for decorative boxes and stack them along a wall for a piece of functional art.
Add a hint of home
Frame familiar wallpaper squares, fabric swatches, photos or other mementos from your child's youth and bring them on your next visit. It's a favorite way to create a personal, homemade art display.
Weekend Project: Refinishing Furniture
1. Remove old paint and varnish with a chemical paint stripper or hand, belt or disk sander being careful not to sand too deeply.
If you sand by hand, remember to sand with the grain of the wood.
Be sure the paint you are sanding isn't lead-based; follow the safety instructions on the paint stripper can, including wearing gloves and mask.
2. Sand the surface of the furniture using fine grit sandpaper (#220) after the surface has dried.
If there is some residual paint or stain, repeat the process with #120 grit, followed again by #220.
Always work with the wood's grain.
3. Fill the grain with grain filler if you're working with a wood with an open grain, like mahogany or oak.
Skip this step if you're working with wood with a tighter grain, like maple.
Use a rag or stiff paintbrush to apply the paste filler, working it into the grain and letting it dry as directed.
Remove any excess filler with a plastic scraper or a smooth, round-edged putty knife.
When it has dried completely sand it with fine grain paper.
4. Apply a heavy coat of sealer, allowing it to soak into the wood for a few minutes.
Wipe off any excess with a clean rag.
Allow wood to dry completely before lightly sanding with fine (220 grit) sandpaper.
5. Stain the wood, making sure to follow the manufacturer's directions.
Apply the stain with a rag or brush and allow it to penetrate the wood. The longer it penetrates, the darker the color will be.
Wipe off excess stain with a clean rag and allow the piece to dry.
Repeat for a darker finish.
How have you created a fresh look for your grown-up child with existing furniture?