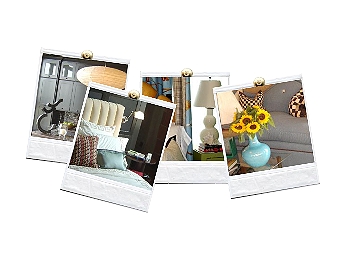 By the time the first hint of warm weather arrives, I'm ready to transition from living the indoor life to ushering in a breath of fresh air. It's time to add a touch of Spring!
I start by taking a "slipcover approach" to the season – making quick, cost-effective changes that have a big impact on my space.
In the family room, I add small touches to update while keeping the overall aesthetic.
I change out existing lampshades with white paper lampshades that I customize with watercolor paints. Use stencils to create a pattern, or paint freehand for a more whimsical design. This is a great activity to share with your kids.
Take down winter drapery to let the light in. Leave windows bare or use lightweight window treatments to instantly add a fresh look.
I like to display fresh flowers throughout my home to add life, color and sweet scents. Fruits and vegetables grouped with like-color flowers also make gorgeous seasonal centerpieces. Use old crockery, mustard jars or other containers as unique vases.
My bedroom is private, so I treat it as my personal haven. Special touches in unexpected places make it uniquely my own.
Switching out bed linens always seems to usher in a new season. Choose a lighter fabric and a brighter color, or try crisp white linens for a fresh look.
One of my favorite tricks is to paint the moldings and ceiling a color other than white to add depth and an element of design. Soothing blue or calming lilac helps lull you to sleep, while a bright, sunny color can be an energizing mood-booster.
Your wardrobe closet is the one space seen only by you, so it's a great place to indulge yourself. Paper the interior in a bright pattern or paint it a favorite color, for an unexpected surprise each time you open the doors.
Aroma can have a huge impact on a room. I like to incorporate different scented candles for each room. Soothing lavender, for example, is ideal for bedrooms and linens. Candles and linen sprays are good if you're allergic to fresh flowers.
Fragrance essentials
Citrus is energetic and fresh, so it's great for the kitchen and bath.
Freesia, Gardenia and Rose are sweet and flowery; lovely if you want to create a feminine feeling.
Lavender is soothing and calming, making it ideal for bedrooms and linens.
Mint and Eucalyptus are tranquil and relaxing – try them in the bath.
Vanilla and Jasmine have a romantic vibe, ideal for your personal spaces.
Cinnamon is homey and warm, and usually preferred for winter holidays.
Customizing a lampshade is simple!
1. Sketch your design freehand on paper to use as a guide.
2. Use a pencil to lightly redraw the design on the paper lampshade – it's easy to erase mistakes or make changes.
3. Paint over your design with watercolors. When dry, use an eraser to remove any visible pencil marks.
Designs ideas for lampshades:
A pattern of breaking waves adds whimsical beach-house charm.
Paint a city skyline to add local charm to your living room or den.
Use a motif of spring flowers that are just beginning to bloom.
Kids can add special touches with drawings of pets or favorite memories.
What spring touches do you add when the weather warms up?