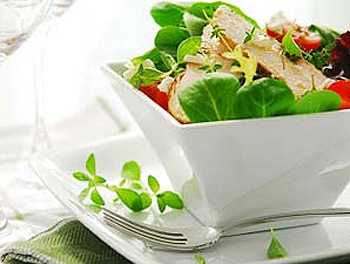 Pick A Theme
The first step in planning a dinner party involves choosing a theme. Having a cocktail party means a larger list, with people from a mix of social circles. So naturally, a dinner party calls for an intimate guest list with people you know will get along. You can have fun carrying the theme beyond the menu to the entire party, from music to decorations.
In this two-part series, find ways to host a dinner party that truly cooks.
The frugal foodie
On a budget? Throw a small-plates party. Ask each guest to bring an appetizer that serves six to eight. You provide the beverages and dessert.
Farm-market fresh
Seasonal ingredients create powerful flavor without a hefty grocery bill. Pick up fresh produce for a hearty vegetable lasagna or Asian stir-fry. For an impressive dessert featuring two kinds of fresh fruits, try Coconut Butter Cake with Mango-Blueberry Compote.
Seafood bake
Lobster or an outdoor clambake is great for special-occasion entertaining. The vibe is low-key, but the results are impressive, creating a comfortable but lavish meal.
Dressed-up pizza
Make pizza on the grill! Make a large batch of dough and offer a wide variety of toppings, letting each guest create a personal pizza.
Scavenger Saturday
Invite guests to an early-evening scavenger hunt. Divide them into groups and provide hints on finding the ingredients for the evening's meal. Plan on four hours to hunt, reconvene, prepare the meal and enjoy it together.
Prep Your Party in A Week
Planning your party takes a bit of prep work. You can start by creating a timeline that begins a week out from your party date.
7 Days before: Plan your menu. Choose dishes with origins to your theme, but add a new twist. South of the border? Update a classic crowd-pleaser, like Chipotle Mac and Cheese followed by a Mexican-chocolate Chipotle Cookies.
5 Days before: Create a shopping list. Do this in advance so you can focus on the cooking on party day. Be sure to check your pantry and refrigerator for items you might already have.
3 Days before: Choose the music. Select a few CDs or build a play list on your computer or mp3 player to correspond with the theme. Listen to it a few times to get in the party mindset.
2 Days before: Check your market. Local specialty shops or farmers' markets are good sources for fresh produce and other ingredients. If you don't have a farmers' market, choose fresh, seasonal items at the grocery.
1 Day before: Freshen up. Buy fresh flowers for the table; this will give the buds a day to open. If they haven't bloomed completely by the day of the party, add warm water to the vase to encourage them to open.
Easy appetizer: the day before, you can also buy two or three cheeses from a region that complements your menu and set them out with crackers, almonds, grapes and sun-dried tomatoes. It's an elegant appetizer that only requires a beautiful platter.
Party Day
On the day of the party you'll want to make final purchases and pick up any forgotten ingredients. Then it's time to start creating the dining atmosphere.
Set the table: Remember that you eat with your eyes first, so serve the meal on white plates. This sets off food colors and makes them the star of the table.
Serve it: Consider the easiest way to serve your meal. For a small group, plate everything before you bring it to the table. Larger groups are best served from your buffet, or family-style at the table.
Stay tuned for Part Two!