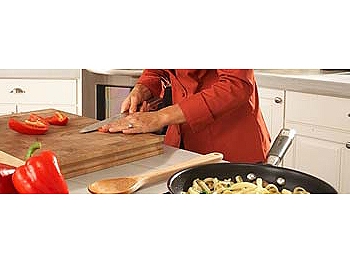 If you're thinking about a future renovation, there's a lot to think about before you get started.
You've got to ask yourself some questions and be honest with your answers. And you should have a clear plan laid out, too.
And in this two-part series, we'll start by asking important question to consider before starting your kitchen project. Then in Part Two, we'll take a closer look at planning your budget, inspiration and how to decide if you need a pro to do the job.
Part One: Questions To Consider
Your renovation should be a reflection of your family's lifestyle. If you don't enjoy spending hours in the kitchen, a gourmet range with six burners won't inspire you to become a chef.
However, if your culinary style is cramped in your current space, you may put top-of-the-line appliances at the top of your wish list. It's always best to start with a plan.
Consider these questions before you plan your new kitchen.
Are you a Sunday chef, a midnight snacker or a gourmet cook? The less you cook, the less kitchen you'll need – and vice versa.
Do you bake? Do you like to wash dishes as you go? Do you like to prep/chop and cook at the same time? Think about how you progress through the steps of making a meal.
Are there multiple cooks (or cleaners) in the kitchen at once?
Do you use your kitchen for more than meal prep and eating, like homework, bills or entertaining?
Are your kids in the kitchen while you prepare meals?
Do you have special storage or display needs such as cookbooks, recycling, big serving pieces or an extensive spice collection?
Before you begin, consider your space.
What do you love and dislike about your current room?
What is the family composition and how will it affect the way the kitchen will be used?
Are you a modernist, a traditionalist or a combination of both?
How will electronics be used in your room?
Would you like to emphasize art and wall coverings in your room?
What type of special storage needs do you have?
Consider appliance color

Do you prefer traditional white, dramatic black or stainless steel? Your appliances can serve as a gorgeous and striking centerpiece while counters, cabinetry and paints can be complementary elements.
Do you prefer natural or painted cabinets?
Do you prefer stone or manmade countertops?
Do you prefer stainless steel appliances or colored ones?
Would you like a traditional tile backsplash or something a little different, like mirror or stone?
Do you want tile, cork or hardwood floors?
How about lighting: ambient, task, overhead?
The Layout Is Everything!
Appliance configurations are particularly important when developing a room's layout. No matter how large or small your kitchen, it should be planned around the "golden triangle." This refers to the triangular path we take as we work, from the range to the refrigerator to the sink. The work triangle is a vital component for an efficient kitchen.
That should help get you thinking until next week in Part Two, when we look at budget, inspiration and more.