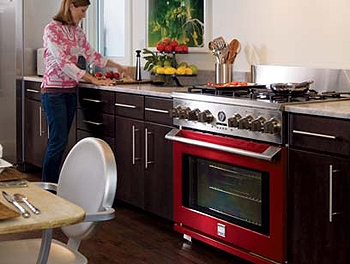 Part Two: Plan, Budget, Inspiration…
In this two-part series, we started by asking important questions to consider before starting your kitchen project. Now in Part Two, we'll take a closer look at planning your budget, your inspiration and how to decide if you need a pro to do the job.
Get the project started
Always start your renovation projects with a plan and a budget.  These will help drive your decision-making and serve as road maps for your project. Over the years, I've developed an arsenal of tried-and-true tips to help you avoid common remodeling mistakes.
Plan ahead
Bath and kitchen renovations are complex projects, so it's important to plan ahead. If possible, complete the renovations in stages, so appliances can be available for cooking and cleaning throughout the process. Consider keeping your refrigerator in the basement or garage so it's accessible during the project.
Decide on your budget
You simply cannot begin without one! Especially since add-ons and changes can spiral out of control if you don't stick to a budget. And yes, what you've heard is absolutely true: plan on going 20% over your budget for those changes and surprises.
You might want to open a checking account specifically for your renovation. It gives you an easy tracking system and makes record keeping simpler.
Find inspiration
Discover ideas for your project in unexpected places. Don't feel tied to magazines, television programs or builders' shows. A color chip or piece of art that speaks to you can be a great starting point. A favorite outdoor element, like the sky at a certain time of evening or a color combination in your landscape, may reveal a vibrant color palette that can be brought indoors.
Call in the professionals
Painting or other "weekend jobs" don't normally require expert consultation, but if you are investing a large amount of money or considering structural changes, it's best to confer with a professional to ensure your project will run smoothly. Ask friends for recommendations and get two or three estimates. Review contracts carefully. Be sure your contractors are licensed and bonded.
Have you started your project? Share your tips!