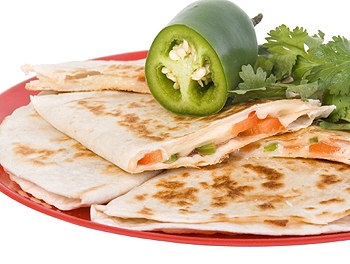 Ingredients
Shrimp Quesadillas:
2 tablespoons olive oil
1 lb. medium shrimp, shelled, deveined and chopped into ¼-inch pieces
1 garlic clove, peeled and minced
1 tablespoon lemon juice
¼ teaspoon lemon zest
¼ teaspoon kosher salt
1/3 cup green pepitas (toasted green pumpkin seeds)
2 tablespoons parsley, chopped
3-5 tablespoons canola oil (for cooking)
10 large flour tortillas
Tomatillo Salsa:
¼ lb. fresh green tomatillos, husked
1 small red bell pepper
1 clove garlic, peeled
2 tablespoons chopped red onion
½ serrano chile, seeded and coarsely chopped
Juice of ½ lime
½ bunch cilantro, thick stems removed, plus more for garnish
¼ teaspoon sugar
¾ teaspoon kosher salt
Preparation
1Heat: a medium sauté pan and add 1 tablespoon olive oil. Add chopped shrimp to the hot pan. Cook about 1 minute, then add garlic. Cook 1 more minute or until shrimp are bright pink. Transfer shrimp to a bowl. Season with lemon juice, zest and salt; set aside. In a bowl, combine pepitas, parsley and grated cheese and mix together.
2 Add: 1 tablespoon of canola oil to a non-stick pan over medium heat. Lay a tortilla flat in the pan. Place ¼ cup each of cheese and shrimp filling on top; cover with another tortilla. Cook a few minutes until golden; turn and cook until other side is toasty. Remove from heat. Repeat until all ingredients have been used.
3 Husk the tomatillos and blanch them in boiling water for 15 seconds only. Immerse them in a bowl of ice water to cool. Remove core from each tomatillo and puree in food processor; let stand. Roast peppers over a flame or broil in oven until charred. Put into a paper bag for 5 minutes, then peel off charred skin and remove seeds and stem. To the food processor, add bell pepper, garlic, chopped red onion, seeded chile, lime juice, cilantro, sugar and salt. Puree until smooth. Transfer to a serving bowl; garnish with cilantro.
4Serve: cut each quesadilla into 8 triangles. Place on serving platter surrounding bowl of salsa.
Makes 30 quesadilla triangles and 1 cup salsa.