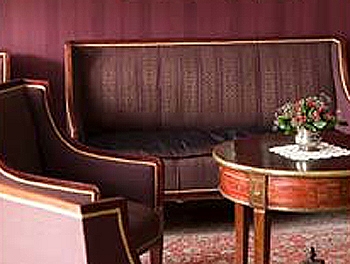 Each year around this time, nature sends signals letting us know autumn is approaching. So I'd like to share some inspirational guides that can help you transition to the season in style.
Secret weapons
A few insider tricks will help you effortlessly achieve designer style. Painting walls an opulent color like eggplant or mulberry adds richness to an otherwise unchanged room. You can get the same effect with new throw pillows and curtains. Their lush tones will make subtle colors pop.
Make an entrance
First impressions count, and an inspired entry makes for a memorable reception. Select bold wallpaper and coordinate it with other colors in your home. Finish the room with a unique light fixture, decorative ceiling treatment and fresh flowers. These little details help establish your personal style.
Fifteen-minute fixes
Some of the most striking design changes can be completed in just a few minutes. Rearranging furniture is the simplest thing to do. Shift your sofa to the opposite side of the room or move tables from one room to another. Remove clutter and display only the things you love. Keep the space open while showcasing your most beautiful possessions.
Autumn outdoors
Entertaining outdoors in autumn is especially pleasant — no sweltering heat or pesky bugs. To create a fall fantasyland, build a fire pit in a corner of the yard and string white lights in trees and bushes. Arrange pumpkins and gourds in clusters to highlight the colorful gifts of the season.
Designed to store
Keeping clutter at bay keeps the focus on the décor. Use decorative baskets or boxes on shelves to capture clutter and keep items organized. I love ottomans that open to reveal hidden storage. They're great for tucking away extra blankets. Utilize space with under-bed storage bins that hold seasonal items.
Bring order to the garage
Start by thinking of your garage as a room in your home, rather than a place to store cars. Install bike racks and pegboard to keep tools and equipment off the ground and give you more room to maneuver. Add cubbies or shelves for each family member. If space allows, add a workbench or potting table.
Ready for a new season? What are your favorite ways to add new ideas to your home?