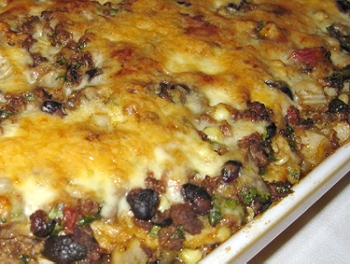 Ingredients
Lasagna:

1 Tablespoon olive oil
1 large yellow onion, chopped
2 lbs. fresh ground beef
1 teaspoon kosher salt
2 packages pre-made taco seasoning mixed with 1 cup water
1 14.5 ounce can chopped tomatoes
4 ears of corn, kernels removed from the husk (or equivalent canned or frozen)
1 14.5 ounce can cooked black beans, drained
1 can black olives, drained and chopped
1 bunch cilantro, leaves only, chopped
1 bunch green onions, finely sliced
1 pkg. homemade corn tortillas
1 lb. Monterey Jack cheese, shredded

Serve with (optional):

1 avocado, mashed with lime or lemon juice and salt
Sour cream
Fresh roasted tomato salsa
Preparation
1Beef filling: In a large sauté pan, heat olive oil and sauté onions until almost translucent. Add ground beef and salt; cook over medium heat until thoroughly cooked. Add two packages of taco seasoning with water and tomatoes. Simmer for a few minutes. Add corn, black beans, black olives and cilantro. Toss all together. Remove from heat.
2Assemble: Layer tortillas and meat mixture in a 9×13 baking dish. Sprinkle with green onions and cheese. Repeat, finishing with cheese on top.
3Bake: Cook in a 350-degree preheated oven for a minimum of 30-40 minutes. If it gets too brown, cover with foil until finished cooking.
4Serve: If you like, serve with the avocado, sour cream and roasted tomato salsa.
Serves 10.
You can also see how to make this recipe by watching the video below.