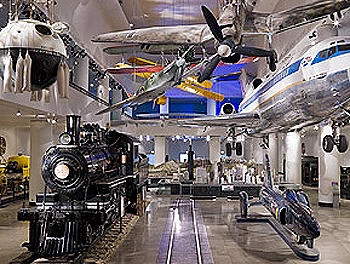 Our family loves to take trips, but they require good planning and budgeting. Whether it's a weekend road trip or a week-long getaway, I'm sharing tips to help you get the most from your vacation time (and dollars).
Lifestyle first. If you have an active family, consider a hiking or camping vacation. Interested in the arts? Plan your trip around museums and plays. Over-scheduled at home? Relax and unwind at the beach. If you have little ones like I do, consider how your trip will impact their schedules. Interrupting nap time or eating late can cause problems.
Choose a destination. I research vacation destinations at the library or by visiting www.familyfun.com. During the year, I tear out pages when browsing magazines, or print items I find on the Web. I keep them in a vacation file for our next trip or for future inspiration. Look online to find the best deals on hotels. Read visitor comments on discount-travel Web sites.
How will you get there? Consider driving alternatives like flying or taking the train. I try to estimate our cost of travel by evaluating current gas prices, roundtrip mileage, meals, hotels and taxes. Hotel taxes vary widely among cities and states, so it may be worth checking rates before you book. Flying? Ask your airline if you can rent portable DVD players for children. Be sure to bring your own headphones to avoid additional costs. Handheld games and coloring books are also great for keeping kids occupied.
Find the deals. Web sites like Travelocity and Expedia help me find great travel deals. Many discount travel sites offer personal settings to alert you when fares for selected destinations have dropped.
Check the weather. I always check the traveler and extended forecasts on www.weather.com before our trip so we know what to pack. I also bring clothing that layers well. Pack an umbrella, too.
Plan everyone's wardrobe. I pack complete outfits for my kids, from socks to sweatshirts, in plastic bags within their suitcase. This makes mornings easier for all of us. Later, we toss and seal dirty clothes in the bags.
Remember the essentials. I create a reminder list to help me pack the camera, chargers for electronics, extra batteries, sunglasses, cell phones, calling cards, bathing suits and maps. A week before our trip, I put a notepad on my nightstand to catch ideas as I fall asleep.
Rent bulky items. Many resorts know it's hard to travel with strollers, play pens and high chairs, and are happy to rent them to you. Check the hotel's website or call ahead to check availability.
Maintain your budget. Family dining can add up quickly. Look for Entertainment books (at www.entertainment.com) that have coupons for the areas you are visiting. I've used them for significant discounts on sightseeing and dining. I've also found www.restaurant.com a good resource before making reservations. The site offers pictures and menus so you know what to expect before you dine.
Dine locally. Ask the front desk for recommendations on local restaurants. Most have brochures for popular destinations. Don't hesitate to ask locals, either! They know their town's hidden gems.
My favorites
These are the Clark family's top five vacation destinations.
Boston, Mass. – Museum of Fine Arts
Indianapolis, Ind. – Indianapolis Zoo
Chicago, Ill. – Museum of Science and Industry
Orlando, Fla. – Walt Disney World
Maine – Outlet shopping
Where did your family go on your last getaway? What tips do you have to share?