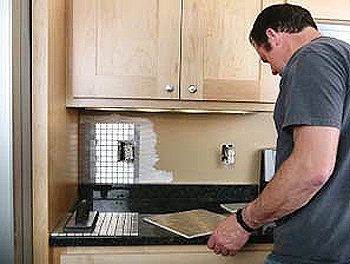 When I have a spare weekend, I like to use it to focus on a single room in my home. I might just give it a good cleaning, or I might repaint, reorganize or rearrange the furniture. If the room that needs the most attention is your kitchen, then I've got some ideas for you!
Organize your kitchen
Declutter your countertops. Edit accessories; use baskets and canisters for small items, and store unused items out of sight.
Create a message center for managing keys, mail, school papers and calendars.
Store items together where they are used: dishes and glassware near the dishwasher. Mugs near the coffee pot. Pots, pans and spices near the stove. Baking ingredients and rolling pins near the mixer.
Optimize storage space. Add a rolling island with butcher-block top and shelf below for extra storage and counter space.
Install extra shelving in the pantry for countertop appliances or cookware. Buy and install interior cabinet accessories like dividers and rollout racks.
Refresh your space
Paint kitchen cabinets and change the hardware.
Introduce color on window treatments, chair cushions and area rugs.
Update kitchen accessories and small appliances.
Paint an accent wall – or the entire room! Use chalkboard paint or magnetic paint, just for
fun.
Wallpaper your kitchen. It's a hot new design trend.
Plant an indoor herb garden. Every room needs some green!
Maintain and repair
Clean! Freshen walls, surfaces and appliances with a thorough cleaning.
Repair drywall before painting or decorating.
Repair, restore and re-grout ceramic tile.
Update your fixtures and surfaces
Install a decorative tile backsplash.
Install a new sink and faucet.
Choose new flooring or dress up what you have.
Install undercabinet or pendant lighting.
Replace countertops.
Are you motivated to make a quick change at home? What project are you planning?