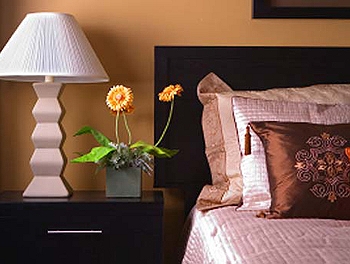 Two Inspiring Projects
I recently completed a couple quick and simple spruce-ups at home. I added textured wallpaper to the back panels of my bookcases for a touch of color and warmth. Then I re-stacked the books and added a few fresh accessories to the shelves. That project showed me how doing a few easy room updates can really transform a room, making it more functional and stylish.
While I was doing my updates, I learned that a friend of mine is using an extra closet to make a mini home office. She's removing the closet door, painting the interior and mounting a countertop inside with shelves above. This will give her valuable extra workspace in her small home.
And both of our projects got me thinking… how could you easily update the rooms in your place?
Kitchen
Install slate-look or limestone-look porcelain floor tile. It's relatively inexpensive so it's ideal for DIYers. Porcelain has a non-porous surface that resists staining, and with a matte finish, it's less likely to be slippery.
Bathroom
Update your shower curtain and towels with fresh color and pattern. Add a new mirror and increase bulb wattage for a lighter, brighter space. But add a dimmer switch to those lights for a soft glow when bathing.
Family room
Paint or wallpaper instantly adds an updated feel. Grass cloth, still a classic, is sound-absorbent and adds textural warmth.
Dining room
A big trend is styling the dining room as a library. You can use a smaller dining table (with leaves) to allow space for bookshelves and perhaps a reading chair tucked into a corner.
Bedrooms
This space should be a relaxing sanctuary, so try to avoid filling it with a desk, computer or excess clutter. Install quality lighting (with dimmers) on both sides of the bed. Keep backgrounds soothing and neutral, and add color with accent pieces.
Mudroom
Plan shelf and closet storage carefully, with cubbies for each family member. Add electrical outlets for charging cell phones and cameras. If the floor is tiled, you might install a floor drain for easy cleanup of kids and pets.
Trash To Treasure
Cover file boxes with contact paper or wrapping paper.
Collect pretty jars and use them for storage in the bath.
Reuse gift baskets to hold small items around the house.
Paint mismatched chairs a unifying color for an eclectic table setting.
Add new cushions to old chairs.
Paint or recover old furniture for an updated look.
Frame old maps and letters for unusual, personalized wall art.
Visit flea markets for interesting finds that add character.
What easy updates have you made recently?