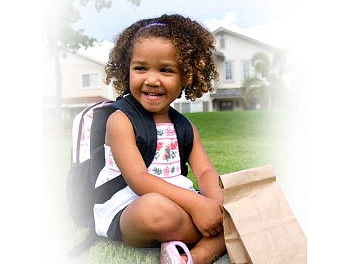 From August to May, friends with school-age kids ask me for quick tips to stay on top of bagged lunches and after-school snacks. These are some ways I suggest combining taste with convenience to satisfy everyone.
Be prepared. Keep key ingredients on hand for quick and easy meal ideas.
Hummus – Spread on sandwiches as a replacement for mayo or mustard, or use as a healthy dip with veggies or crackers.
Pesto – Store-bought pesto can be tossed with fresh pasta, mixed with mayo for a flavor boost in sandwiches, or used as a pizza sauce.
Salsa – perfect, of course, with tortilla chips; consider using it to give a spicy kick to grilled fish or chicken, or mixing into scrambled eggs.
Plain yogurt – Use for marinades, as a base for salad dressings or topped with honey for a healthy dessert.
Pasta and sauce – My go-to meal when I've had a long day: spaghetti with my favorite store-bought sauce.
Eggs – Scrambled eggs are great, but you can also try frittatas or egg-based pastas like spaghetti carbonara for dinner. And nothing beats an egg-salad sandwich.
Grated cheese – Add to tacos, pizza, omelets, salads, quesadillas or wherever you're craving flavor. Beyond mozzarella and cheddar, you can purchase wedges of Gruyere or fontina cheese, grate it and store in the refrigerator. Both melt beautifully and have a great nutty flavor.
Ground meat – Whether it's burgers, tacos, or chili mac and cheese, keep a stash of ground beef, chicken and turkey in your freezer for quick weeknight meals.
Pack a lunch. If your kids (or you) pack a lunch, consider some of these ideas.
Pita pocket – Stuff a pita with hummus, chopped cucumber, tomatoes and feta cheese for a Mediterranean spin on a sandwich.
Thanksgiving treat – Surprise kids with a "Thanksgiving" sandwich. Make it with deli turkey, prepared cranberry sauce and a bit of cream cheese.
Chicken wrap – Buy a rotisserie chicken, shred it and use it to make a tortilla wrap with pesto mayonnaise, lettuce, tomato and onion.
FlufferNutter sandwich – For a once-in-a-while treat, skip the PB&J and use marshmallow fluff. If your kids prefer chocolate, try Nutella, the chocolate hazelnut spread. (Warning: it's addictive!)
Keep after-school treats ready and waiting.
String cheese and sliced pears
Cheese and whole grain crackers
Apple wedges dipped in caramel sauce or honey
Banana slices and peanut butter
Applesauce sprinkled with cinnamon
Have you got your own favorite school-year tips to share?