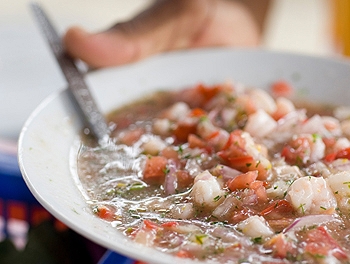 Ingredients
2 red bell peppers
1 lb. tomatoes
1 tbsp. kosher salt
1 lb. sea scallops, side muscle removed (if large, cut into quarters)
1-1/2 lb. shrimp, peeled and deveined
1 cup lime juice
1 red onion, finely diced
Preparation
1 Roast peppers over a gas burner until blackened, turning with tongs as each side blisters. (Or place under broiler.) Transfer to bowl and cover with plastic wrap. Let stand 10 minutes. Peel and discard skins, stems and seeds. Dice into ½" cubes and set aside.
2 Prepare tomatoes: Bring small saucepan of water to a boil. Dip the tomatoes in boiling water for 30 seconds and peel off skin. Cut in half, scoop out seeds and dice in ½" cubes. Toss the tomato with 1 tbsp. salt; let drain for 30 minutes. Discard liquid.
3Assemble: About an hour before serving, combine tomatoes, peppers, scallops, shrimp, lime, red onion, garlic, jalapeño, olive oil and salt. Toss to coat; place mixture in refrigerator. Just before serving, remove from refrigerator and add avocado and cilantro.
4 Serve: Put a cloth napkin on a plate and mound shaved ice on top. Spoon ceviche into a serving bowl and nestle onto ice. Garnish with cilantro.
Serves 8.