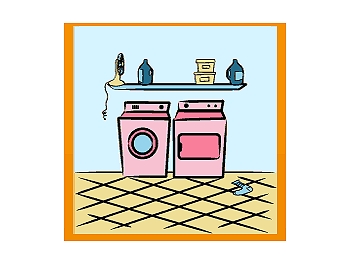 Design with Loads of Creativity
I love that great design and fresh color have moved beyond our living spaces to the more utilitarian rooms in our homes. My clients often ask how they can add style and personality to their laundry rooms. Sleek, high-efficiency laundry appliances in bold colors have inspired a higher level of design in laundry and mudrooms. I've got several ideas on taking yours from bleak to chic.
Dress the Walls
Simple additions to your walls can make the laundry room feel warm and inviting.
Vinyl siding – The laundry room is a warm and steamy environment, which wreaks havoc on traditional wallpaper. Vinyl-coated wall coverings are a good solution. They're available in a variety of finishes and textures.
Huge photos – One of my favorite ways to add personality is by incorporating family photos. Check out websites that can make a photo into a full-size wall mural or multiply and color it for an Andy Warhol look. Or hang framed images of your kids or dog on the beach or at the park.
Fun, Functional Flooring
Flooring is an easy way to add unexpected flair to any room – but it's especially fun in the laundry or mudroom, where you can push the limit a bit with playful design elements.
Flashback floors – Try black and white linoleum tiles in a checkerboard pattern for a retro-cool vibe.
Innovative rubber – One newer option that I absolutely love is rubber. It simplifies cleanup and keeps legs from feeling tired after on-your-feet laundry chores.
Playful pattern – The laundry room floor is a great canvas for patterns based on playground favorites, such as hopscotch blocks. I also like to mark sections of the floor with graphics that denote specific activities: ironing, folding, taking off muddy boots.
Fabulous Painted Floors
Concerned about a painted floor standing up to regular use? Don't be! A few quick tips will keep it looking fabulous.
Concrete floor – Use painter's tape to create your pattern, then fill in the design with deck paint. Deck paint is more resilient and holds up well in a wet environment.
Instant memories – Using finger-paints, have your children make a pattern with their handprints or footprints. When the prints have dried, seal with non-yellowing, water-based polyurethane.
Wood floor – Stencil a pattern around the edges of the room or get creative with a whimsical design, like a compass in the center of the floor. Again, seal with non-yellowing, water-based polyurethane.
Snazzy Storage
The laundry room often doubles as storage space for odds and ends, so add some appealing organizers.
Hooks and wall-mounted racks are an easy, inexpensive way to add style and function. You can paint the rack a color that complements the room.
Install shelves above your laundry pair. Line each shelf with a row of colorful bins or baskets to artfully stow cleaning products and other items.
How-to: Show Your Stripes
Painted stripes make a great focal point on the wall behind the washer and dryer. Follow these steps to add stripes to your walls.
1) Select your colors. Let elements in the room – appliances, a photo or colorful rug – determine your palette.
2) Determine the width and orientation of your stripes. Vertical stripes are a good, traditional choice, but consider diagonal, wide horizontal, or criss-crossing stripes too.
3) With a measuring tape, determine the stripes, mark with pencil, then tape off your lines with painter's tape.
4) Paint alternating sections. Do the lighter color first, let dry, then apply the darker color. Allow paint to dry fully before carefully removing painter's tape.
To add depth and texture, you can use different paint finishes for each stripe color, like eggshell and high-gloss. Be sure the paint has some level of gloss to resist laundry room moisture.
What are your favorite ways to add style to your laundry room? Do you have any tips or tricks?