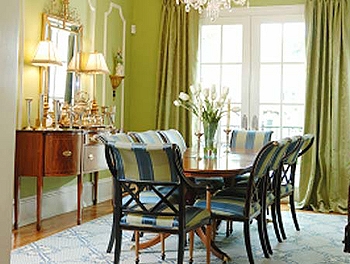 As I mentioned before, I'm a mixer. I love to start with the classics and add punches of color or new trends to my old favorites. Mixing it up lets me include a few of the latest design trends, so I always change things up when I get the urge.
When I'm looking to mix things up, these are the must-have items I can't live without:
Task lighting for reading and soft, cushy seating in my living room.
Under-cabinet lighting in the kitchen. It makes cooking and prep work more enjoyable and easier to navigate. I also love my cabinet organizers.
In the master bedroom, I use an upholstered bench at the foot of the bed for putting on shoes. On my hardwood floors, area rugs add color and comfort.
My laundry room is organized with built-in storage space for boots, cleaning supplies and sports gear.
I make my bathroom inviting by offering guests plush, hotel-style towels. I keep clutter off the countertops and always add fresh flowers when I entertain.
Four steps to analyzing your home:
What's your style? Take a few minutes to analyze your space. Thinking about your old items in new and different ways can elevate your signature style.
1. Review every item in every room. No matter how small or large, consider its importance to you, its overall aesthetic and its potential uses (beyond how it is used now.)
2. Pick out the pieces most important to you. If it doesn't have historical significance for you, isn't beautiful, practical or versatile, then maybe it's time to donate it.
3. Ignore where things originally came from. Just because your loveseat has always been in the den doesn't mean it can't find a better spot in the dining room or a bedroom.
4. Redistribute your favorite items to another room. Find a new way to emphasize a piece of art, stack books in the bookcase or use a bench as dining seat.
What special items, colors or themes have you turned into an expression of personal style?