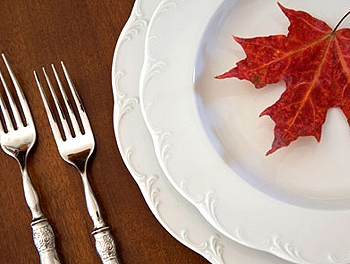 Some of my favorite Thanksgiving décor ideas can be done in three simple steps; here's how I do it.
Design your Thanksgiving table
Don't spend time fussing over the place settings. This year, break up the process into three simple steps.
1. Arrange your guests. Your guests may not remember your centerpiece, or even what you served, but they will certainly remember whom they sat next to and the conversations they had. Mix and match people from different generations, walks of life and locations to encourage lively chat around the dinner table.
2. Craft your menu. Take some time to think about what you'll serve. Thanksgiving has its traditions, but how will you put a unique spin on it? You can ask guests beforehand for their favorite dishes and flavors, and incorporate some into the menu.
3. Design your centerpiece. Take cues from your menu. If your meal is traditional, stick with classics like candles and flowers. With a more playful menu, choose gourds or baskets filled with produce and natural objects.
Create a rustic centerpiece
Take a look – and a walk – outside for inspiration.
1. Hunt. Take a nature walk and search for pine cones, beautiful colored leaves, acorns and other autumn treasures. This is especially fun for children.
2. Gather. Once you've collected all the items, sift through them to select the best pieces. Choose leaves that aren't broken or torn, and evenly sized pine cones and gourds.
3. Display. Gently scatter pieces down the center of your table. It will be more charming if the items don't appear overly staged or organized.
Delight guests with your décor
Home decoration isn't only about pleasing the eye; it's a full sensory experience. When designing for the holidays, I rely on all of my senses. Every sight, sound and smell can trigger memories and create or enhance moods.
1. Sight. Before guests arrive, take time to de-clutter. Look at your room through the eyes of someone who doesn't live there; that stack of magazines on the end table may seem to blend in, but they'll stick out to someone else. Replace clutter with small bouquets. For Thanksgiving, I love the combination of sunny orange flowers and rich greenery.
2. Smell. Buy sprigs of herbs (or gather them in your garden) and work them into your bouquets. Sage, rosemary and thyme are my favorites. They'll perfume the air with an earthy fragrance and tease your nose about the flavors to come at dinnertime.
3. Sound. Create a play list or select a CD with upbeat music and turn up the volume just slightly. The peppy tunes will keep the party flowing without making it difficult to converse.
Share a family classic
Creating a cozy atmosphere isn't just about how you design your home. Be sure to always incorporate one of your family's most beloved classic dishes into Thanksgiving meals. For me it's my mom's Thanksgiving Sweet Potatoes, easily prepared in only three steps. Get the recipe >
Tap into timeless inspiration
Thanksgiving is as much about creating new experiences and traditions as it is about remembering the past. This year, I'm keeping that in mind when choosing my holiday décor.
1. Cherish the past. Keep family traditions alive – whether it's using dad's favorite chair as an inspiration for the room décor, or serving the meal on your grandparents' wedding china.
2. Be in the present. Focus on the moment. Don't get too caught up in creating perfection. You'll enjoy and cherish the experience more.
3. Focus on the future. Let younger family members inspire the décor. Ask them to draw pictures of what they're thankful for or what they'd like to do when they grow up. Each drawing can inspire dinner conversation throughout the meal.
Hold that thought
Ask everyone gathered at the table to write a quick message in a pretty notebook or scrapbook. Next holiday season, take a stroll down memory lane by flipping through past entries and updating the book with new ones.
So, what are your plans for decorating over the holidays?