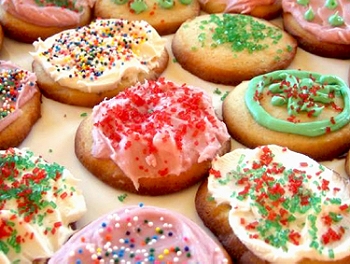 Photo: Chris Andre
Ingredients
Cookies
3 cups all-purpose flour
1-½ tsp. baking powder
2-½ tsp. kosher salt
1-½ cups butter
1 cup sugar
1 egg
1 tbsp. vanilla
1-½ tsp. almond extract
1-½ tsp. lemon juice
Frosting
4 ounces fresh raspberries
12 ounces white chocolate chips (or finely chopped white chocolate)
4 tbsp. confectioner's sugar
2 tsp. vanilla extract
½ tsp. almond extract
Cookie decorations
Preparation
Prep time: 35 minutes to prep and make
Cook time: 15 minutes to cook
Decorating time: About 1 hour to decorate depending on how much time you want to spend.
Makes: 30 2-inch cookies.
1Preheat oven to 350° F.
2Cookie Dough: Sift together flour, baking powder and salt; set aside. Mix butter and sugar with an electric mixer at medium-high speed for 3 minutes. Add egg, vanilla extract, almond extract and lemon juice and mix until smooth. Reduce speed to low and gradually beat in flour mixture but do not over mix.
3Shape Dough and Make Cookies: Shape dough into 12-inch log and wrap in parchment or plastic wrap. Place in freezer for 10 minutes to firm the dough. After chilled, cut into ½-inch slices and bake in preheated oven 12-15 minutes or until golden brown around edges. Let cool on cooling racks.
4Frosting: Heat 2 inches of water in the bottom of a double boiler or a saucepan. Remove from heat. Put white chocolate in the top of the double boiler (or use a bowl placed on top of a saucepan). Stir until chocolate is melted. In a small pan, heat raspberries over low-medium heat about 5 minutes, mashing them with a fork. Pour mixture through a fine strainer into a bowl, pressing to extract juice; discard seeds. Add raspberries to white chocolate and stir to combine. Add confectioner's sugar, vanilla and almond extract; stir until silky looking. Refrigerate 5 minutes. Spread one tablespoon of frosting on each cookie. Sprinkle with decorations and serve.
5For kids:
Use canned frosting if your kids don't like raspberries (or omit the raspberries). Omit almond extract.
6Give as gift:
Put them on a plate and wrap in clear wrap tied with a bow at the top.
7Common substitutes:
Use blueberries or blackberries for the frosting. Or just use canned vanilla frosting to save time. If you use canned frosting, you can dye the frosting different colors. Use sprinkles and cookie decorations for different styles and themes.